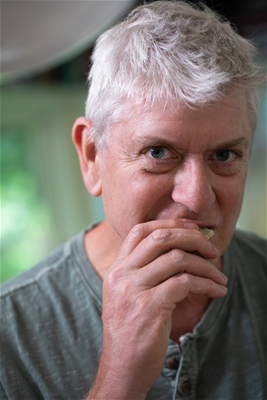 Ken Forkish
Owner
Ken's Artisan Bakery, Ken's Artisan Pizza, Trifecta Tavern & Bakery, and Checkerboard Pizza
Ken Forkish is the owner of Ken's Artisan Bakery, Ken's Artisan Pizza, Trifecta Tavern & Bakery, and Checkerboard Pizza in Portland, Oregon. He is also the author of the James Beard and IACP Award-winning book Flour Water Salt Yeast (Ten Speed Press), included on Amazon's list of 500 top-selling books. In 2015, he released an ode to pizza, The Elements of Pizza (Ten Speed Press).
Ken is largely recognized as a key contributor to Portland's culinary evolution, founding Ken's Artisan Bakery in 2001 and Ken's Artisan Pizza in 2008. He was a finalist for the national James Beard Award "Outstanding Pastry Chef" in 2013; that same year, he opened Trifecta Tavern & Bakery in Portland's Central Eastside, a bar, restaurant and small-batch bakery.
Most recently, Ken opened Checkerboard Pizza in Portland's Pine Street Market, serving New York-style pizza by the slice and as whole pies. In 2018, Checkerboard Pizza was named the best pizza slice in Portland by The Oregonian.
6/27/2020 8:15 AM
Room: