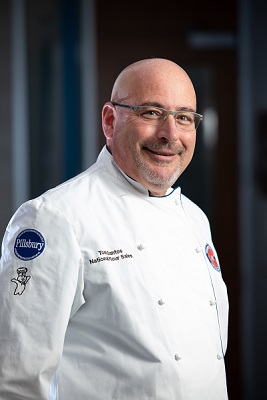 Tom Santos
National Flour Sales
General Mills Convenience & Foodservice
Tom recently celebrated his 40th year in the baking industry. His experience dates to 1980 owning and operating a full line retail bakery for 18 years. Tom been with General Mills for 23 years and works with National Flour Sales throughout the United States and Puerto Rico.
Tom's background of product knowledge, production, operations, and training offers a solid foundation to assist the wide range of General Mills Flour customers throughout the country. His role also involves understanding commodities and communicating market direction on flour pricing.
More recently, Tom has created flour training video content and provided informational articles to trade magazines in support of educational opportunities for the flour industry.
8/17/2021 9:30 AM
Room:
8/17/2021 3:30 PM
Room:
8/18/2021 9:30 AM
Room:
8/18/2021 3:30 PM
Room: